Book a Tour at the Bridge
Delve under Bristol's most iconic landmark or join a free weekend tour: there's lots of ways to experience the Clifton Suspension Bridge! Public tour tickets are released throughout the year.
Underground Vaults Visit:
Self-Guided exploration of the Leigh Woods Vaults. Minumum age 7+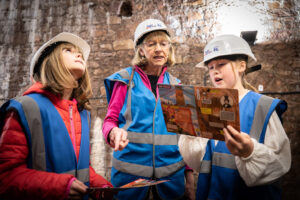 Did you know the Leigh Woods tower is built on top of 12 massive vaults? Put on your hard hat, climb down the ladder, and use our self-guide map to explore two of these unique, cavernous underground chambers.
This exciting trip is your chance to experience the Clifton Suspension Bridge like never before! Delve into the vaults with one of our White Badge Certified Learning Facilitators and see the bridge from a brand new perspective.
On this must-do adventure, you'll be one of the lucky few to discover exactly what the bridge looks like from the inside. There will be plenty of time to take photographs and ask questions. Don't miss the chance to tick our Underground Vaults Visit off of your bucket list!
Book online now!
Historical Hard Hat Tour:
Guided tour of the Leigh Woods Vaults. Minimum age 7+; recommended for adults. Private group tours are available by arrangement.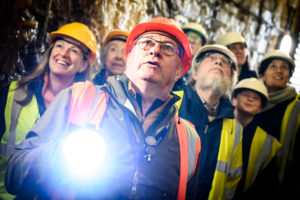 When construction of the Clifton Suspension Bridge began in 1831, the eyes of the world were on 23-year-old Isambard Kingdom Brunel and his bold plan to build the highest and longest bridge in the world. Many of the bridge's secrets, like the vaulted chambers sealed inside the abutment, were lost when Brunel died.
Join our knowledgeable Volunteer Guides on a one-hour historical tour through two of our 12 vaulted chambers. The tour will begin on the abutment above, but once you've climbed inside, your guide will share some of the most interesting features and explain why it took until 2002 for the Clifton Suspension Bridge vaults to be rediscovered.
Don a hard hat, descend into the vaults and take a look for yourself.
Book online now!
Weekend Bridge Tour:
Guided tour of the Clifton Suspension Bridge. No minimum age limit; dogs welcome. Private group tours are available by arrangement.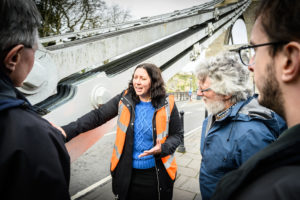 Join our knowledgeable volunteer tour guides as they talk you through the history, construction and maintenance of the iconic Clifton Suspension Bridge! Our weekend tours last between 45 minutes and one hour and run on weekends and bank holidays throughout the year.
Book online now!
Underground Tour Restrictions:
Please ensure that all ticket-holders are aware of the following restrictions. For safety reasons, we may not be able to allow you access to the Vaults if you have not complied with the following:
All attendees must be 7+ and under 18s must be accompanied by an adult.
Minimum height limit of 1.2m.
Shoes with good grip, such as hiking boots or trainers, are required. You will not be allowed to join the tour in heels or open-toed shoes.
This tour includes climbing a vertical ladder and passing through a low corridor. Please ensure that you are physically capable of doing so.
All cameras, phones, and devices must be able to fit in your pocket or bag so that you have two hands free to climb the ladder.
Only small bags worn over both shoulders or bags with cross-body straps are permitted. Everything else can be stored in the Visitor Centre during your tour.
Please wear weather-appropriate clothing as tours will go ahead even in poor weather and ensure that cameras or mobile phones are protected from the calcite saturated water which may fall from the ceiling.
Tickets for our underground tours are available from Easter to October and are released throughout the summer season. Private tours can be booked for groups of up to a maximum of 15 people, although there is no minimum. Should you wish to bring a larger group, it is possible to run two tours on the same date with start times one hour apart.
Underground Vaults Visits are sponsored by full fibre provider, ITS Technology Group's 'Faster Britain' programme.

Making a Group Booking? Contact us to find out more.
If you'd like to bring a group to the bridge for a celebration, educational visit or large family day out, please contact us directly to make arrangements.
Emily Larsen, Front of House and Marketing Manager
Underground Tour Access Guide