Our Awards
We're very proud of our Visitor Centre - and the staff and volunteers that keep it running! On this page, you can find out more about the awards we've received for our work.

Bristol, Bath & Somerset Tourism Awards 2023/4 – Finalist: Small Visitor Attraction of the Year

The Bristol, Bath and Somerset Tourism Awards will be held in November 2023. We've been shortlisted thanks to a record-breaking season of delivery for both school and public tours, the successful refurbishment of a fabulous new shop and our team's work to develop an new programme of events especially for local people.

Cook Brown Awards 2023 – Highly Commended, Design Excellence
Recognised as a stand-out project, the refurbishment of the Clifton Hub was Highly Commended. The judges said "We were impressed with how this small building works so hard to serve the public and the fabric of the building was retained with this sympathetic remodel."

Bristol Life Awards 2023 – Finalist: Leisure & Tourism

We were delighted to have been selected as finalists in the Leisure & Tourism category of the Bristol Life Awards. In 2022 we recruited and trained a new team of accredited Learning Facilitators, announced a new tours programme, delivered a record number of school visits and opened new visitor facilities at the refurbished Clifton Hub.

Bristol Life Awards 2021 – Finalist: Cafe (Chapter & Holmes) and Finalist: Retailer (Chapter & Holmes)
The amazing team from the Chapter & Holmes Coffee Cart were nominated for their service during the 2020 lockdown. Chapter & Holmes were able to remain open throughout the pandemic, operating outdoors in all weathers to provide the local community with larder essentials such as eggs, flour, fresh tomatoes, coffee beans – as well as their amazing takeaway hot drinks and cakes.  They also do a great line in free dog biscuits – check out their 2020 'Dog of the Day' feature on Facebook!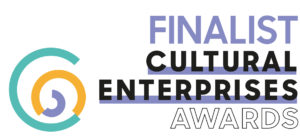 Cultural Enterprises Awards 2020 – Finalist: Creative Commerce Award (Clifton Suspension Bridge Trust x SGS College Illustration)
The Cultural Enterprises Awards celebrate creativity and innovation in cultural income generation. Finalists are selected from museums and cultural destinations across the UK. The project celebrated a new range of student-designed products inspired by the Clifton Suspension Bridge. The judges said: "A brilliant partnership with local students, creating products for young people, designed by young people."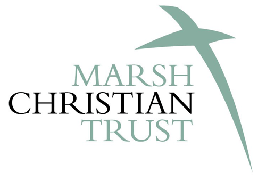 Volunteers for Museum Learning Awards 2019 – Winner: South West (Hard Hat Tour Guide Team) 
The awards are presented at the British Museum in September and celebrate the achievements and contribution of volunteers in museums, galleries and heritage sites all over the United Kingdom, recognising their dedication, innovation and excellence in engaging with the public. This year our team of Har Hat Tour guides not only designed, developed and delivered three new tour experiences,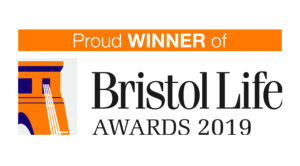 Bristol Life Awards 2019 – Winner: Leisure and Tourism
The Bristol Life Awards are the premier event for celebrating local business in and around Bristol. The judges said "What a 2018 the Trust has had! Record-breaking in both visitor numbers and total donations enabling one of the most precious assets in our city to be more accessible for all."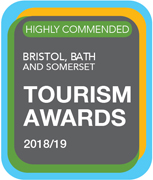 Bristol, Bath and Somerset Tourism Awards 2018/9 – Highly Commended: International/Inbound Visitor Experience of the Year
Winners of this award demonstrate that they have gone the extra mile to promote and deliver an outstanding experience for visitors from overseas, offering international visitors an exceptional standard of service and a memorable experience.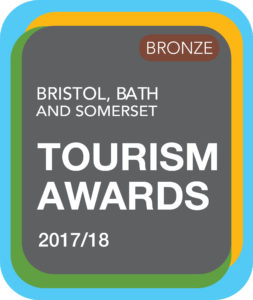 Bristol, Bath and Somerset Tourism Awards 2017/8 – Bronze Award Winner: Guided Tour of the Year
A capacity audience of the best tourism businesses from across the region witnessed 70 trophies being presented to the winners at the Bristol, Bath and Somerset Tourism Awards ceremony held at Somerset County Cricket Club.
After 6 months of assessing evidence and judging by a panel of experts the winners were announced by Laura Rawlings from BBC Radio Bristol, who was joined on stage by Marcus Trescothick MBE. The winners were all presented with individually crafted hand inscribed awards by Will Shakspeare, from Shakspeare Glass in Langport.
Somerset based organiser Nell Barrington said "these awards showcase the best that Somerset, Bristol and Bath have to offer visitors; from food and drink to attractions, experiences, accommodation and new for this year, guided tours."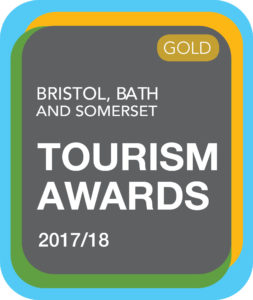 Bristol, Bath and Somerset Tourism Awards 2017/8 – Gold Award Winner: Tourism Experience of the Year
Insane Root Theatre Company were named Gold award winner in the category 'Tourist Experience of the Year' for 'Orpheus & Eurydice in the Suspension Bridge Vaults'. The Company said "We wanted to give a particular mention to Laura Hilton – the Visitor Services Manager at the bridge and an instrumental part of bring Orpheus & Eurydice to fruition."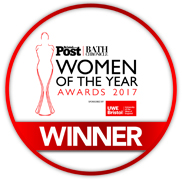 Bristol and Bath Women of the Year Awards 2017 – Winner: Customer Service (Laura Hilton)
The Bristol Post and Bath Chronicle Women of the Year Awards took place on 9th March at Bristol Harbour Hotel. The awards, run by the Bristol Post and Bath Chronicle in association with the University of the West of England, celebrate the achievements of businesswomen and entrepreneurs across the region.
The Customer service Award is presented to the woman that has provided the best customer service to the local community, to internal stakeholders or to clients. This person will be seen to be regularly going 'above and beyond' the call of duty to ensure their customers receive excellent service. This award will be presented to the woman who demonstrates excellent business acumen and high achievement in business.
Laura has established Clifton Suspension Bridge Visitor Centre as a leading free entry heritage destination. From its very conception, Laura worked with architects to design, develop and build a user-friendly building that is accessible to all. She has created a culture of working where good customer service values are at the core. Her achievements have included establishing sell-out tours and events in the Suspension Bridge Vaults, putting the bridge history back on the map.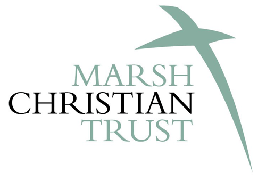 Volunteers for Museum Learning Awards 2016 – Winner: South West (Rachel Gollin)
Clifton Suspension Bridge Trust volunteer Rachel Gollin won the South West category of the prestigious 'Volunteers for Museum Learning' award. For the seventh year The British Museum and the Marsh Christian Trust have been working in partnership on the award which recognises the hugely valuable contribution that volunteers make in helping museums engage with their visitors.
Rachel was nominated for her work in for designing and delivering a STEM (Science, Technology, Engineering and Maths) resource pack for secondary pupils which focussed on the physics of bridges, giving purpose and meaning to maths and physics by applying them to real life situations encountered in daily life. She also led sessions with secondary students, many of whom lacked confidence in their abilities to complete maths and physics activities yet after the session showed real pride in their achievements.
"Through the Clifton Suspension Bridge, I have discovered a huge community of volunteers who do amazing things across Bristol" says Rachel. "I am gladdened to see that so many people are giving their time to help others and make Bristol such a vibrant, exciting city. I love the Bridge: its history, its representation of the greatest age of engineering development and its focus for life in Bristol over the years."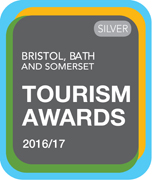 Bristol, Bath and Somerset Tourism Awards 2016/17 – Silver Award Winner: Best Small Attraction
The Clifton Suspension Bridge Visitor Centre received the silver award in the Best Small Attraction category at the first ever Bristol, Bath and Somerset Tourism Awards ceremony held in 2016.
Laura Rawlings from BBC Radio Bristol announced winners from each of the 20 different categories to excited cheers. To get to this stage each entrant had gone through a rigorous three-stage judging process, taking into account websites, reviews, social media, visits by industry 'mystery visitors' and finally a judging panel.
Robert Sinclair, Chief Executive Officer of Bristol Airport, the Headline Sponsor said: "The outstanding quality of award winners in all categories demonstrates the strength of the tourism offer in Bristol, Bath and Somerset."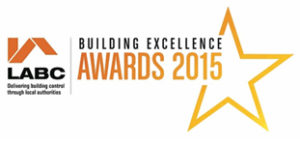 LABC Building Excellence Awards 2015 – Winner: Best Small Commercial Building
The largest business to business awards in the building control sector, the LABC regional building excellence awards recognise quality in all types of building project. The awards celebrate your achievements in the construction industry. They reward excellent buildings, outstanding companies, and partnerships and individuals that go that extra mile.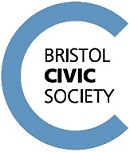 Bristol Civic Society – Winner: Best Small Commercial Building
Bristol Civic Society runs two prestigious annual award schemes. The Design Awards recognise developments in Bristol which make a positive contribution to the local environment through excellence of design. There are three fundamental criteria. Nominations must be made for projects completed during the preceding two years; located within the City of Bristol; and visible from a public place.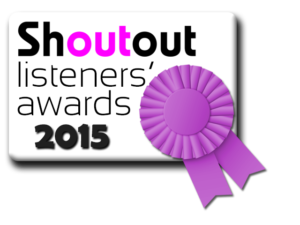 Shoutout Listener's Awards – Best Tourist Attraction 2015 
ShoutOut – the radio Show for the LGBT community in Bristol and surrounding areas gives listeners a chance to reward those who work for and within the LGBT community. Listeners are able to nominate and vote for their favourites in over 20 categories.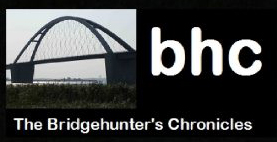 Othmar H. Ammann Awards – Bridge of the Year 2014
Clifton Suspension Bridge was named 'Bridge of the Year 2014' in the Othmar H. Ammann Awards hosted by US website The Bridge Hunter's Chronicles. Taking 77% of the vote and beating the Fehmarn Bridge in Schleswig-Holstein, Germany (second place), the Firth of Forth Bridges in Scotland (third place) and Tower Bridge in London in an international competition, award hosts said that the Clifton Suspension Bridge was clearly very much loved.
The awards are named after internationally known bridge engineer, Othmar H. Ammann who immigrated to the US from Switzerland and left his legacy for the next generations to awe in wonder. Each year in November nominations are collected for the categories of Lifetime Legacy, Best Snapshot, Best Kep Secret, Mystery Bridge, Best Bridge Preservation Practice and Bridge of the Year. A photograph of the bridge was also placed second in the Best Snapshot category.