Schools
Our education programme encompasses a range of curriculum subjects and offers a variety of tours and workshops to accompany your school topic.
We're a two-time winner of Marsh Volunteers for Museum Learning Award and offer a variety of bookable tours, workshops and outreach activities covering a range of curriculum topics. In all our sessions we explore 150 years of the iconic Clifton Suspension Bridge, from how it was built to how it is looked after today.
If you can't come to us, please get in touch to discuss our outreach options.
Our tours provide the opportunity to explore the bridge and its history with one of our knowledgeable guides and each tour lasts approx 45 minutes. Our workshops offer a deeper engagement with the bridge, combining a tour with a hands-on session in the Visitor Centre to make a 2 hour visit.
Due to Covid-19, we have limited our available selection of on-site tours for 2020 and have developed three new online sessions for you to choose from. We have also expanded our range of downloadable teaching resources to help you and your class engage with the bridge from afar.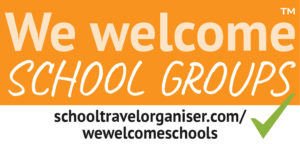 Check availability
The calendar shows when we have availability and which days are already booked. Please contact us to check the dates you would like.
Unavailable

Available

Booked
January 2022

M

T

W

T

F

S

S

1

2

3

4

5

6

7

8

9

10

11

12

13

14

15

16

17

18

19

20

21

22

23

24

25

26

27

28

29

30

31
February 2022

M

T

W

T

F

S

S

1

2

3

4

5

6

7

8

9

10

11

12

13

14

15

16

17

18

19

20

21

22

23

24

25

26

27

28
March 2022

M

T

W

T

F

S

S

1

2

3

4

5

6

7

8

9

10

11

12

13

14

15

16

17

18

19

20

21

22

23

24

25

26

27

28

29

30

31
April 2022

M

T

W

T

F

S

S

1

2

3

4

5

6

7

8

9

10

11

12

13

14

15

16

17

18

19

20

21

22

23

24

25

26

27

28

29

30
May 2022

M

T

W

T

F

S

S

1

2

3

4

5

6

7

8

9

10

11

12

13

14

15

16

17

18

19

20

21

22

23

24

25

26

27

28

29

30

31
June 2022

M

T

W

T

F

S

S

1

2

3

4

5

6

7

8

9

10

11

12

13

14

15

16

17

18

19

20

21

22

23

24

25

26

27

28

29

30
July 2022

M

T

W

T

F

S

S

1

2

3

4

5

6

7

8

9

10

11

12

13

14

15

16

17

18

19

20

21

22

23

24

25

26

27

28

29

30

31
August 2022

M

T

W

T

F

S

S

1

2

3

4

5

6

7

8

9

10

11

12

13

14

15

16

17

18

19

20

21

22

23

24

25

26

27

28

29

30

31
September 2022

M

T

W

T

F

S

S

1

2

3

4

5

6

7

8

9

10

11

12

13

14

15

16

17

18

19

20

21

22

23

24

25

26

27

28

29

30
October 2022

M

T

W

T

F

S

S

1

2

3

4

5

6

7

8

9

10

11

12

13

14

15

16

17

18

19

20

21

22

23

24

25

26

27

28

29

30

31
November 2022

M

T

W

T

F

S

S

1

2

3

4

5

6

7

8

9

10

11

12

13

14

15

16

17

18

19

20

21

22

23

24

25

26

27

28

29

30
December 2022

M

T

W

T

F

S

S

1

2

3

4

5

6

7

8

9

10

11

12

13

14

15

16

17

18

19

20

21

22

23

24

25

26

27

28

29

30

31
Key Contact
For more information or to arrange a visit, please contact:
Tish Russell, Visitor Services