Your School Trip
Thank you for visiting the Clifton Suspension Bridge - we hope you had a good time! Here is a reminder of some of the things you might have done during your time here.
This page will help you to remember some of the things that you might have done during a school trip to the Clifton Suspension Bridge in Bristol. Your visit was supported by the Nisbet Trust, a local charity who want to help children like you learn new things.

You probably walked across the bridge at least once – and you might have been on a tour with somebody from our Learning Team. The bridge is 75 metres above the river, so it's very high! Can you remember what you could see when you looked at the view, or what was underneath you as you walked across?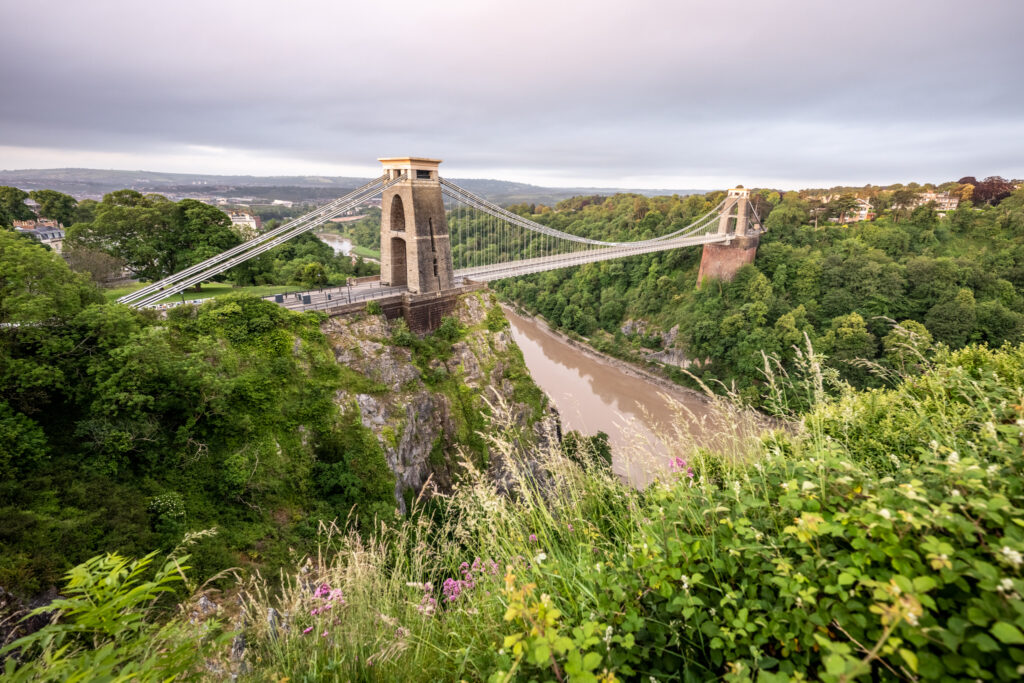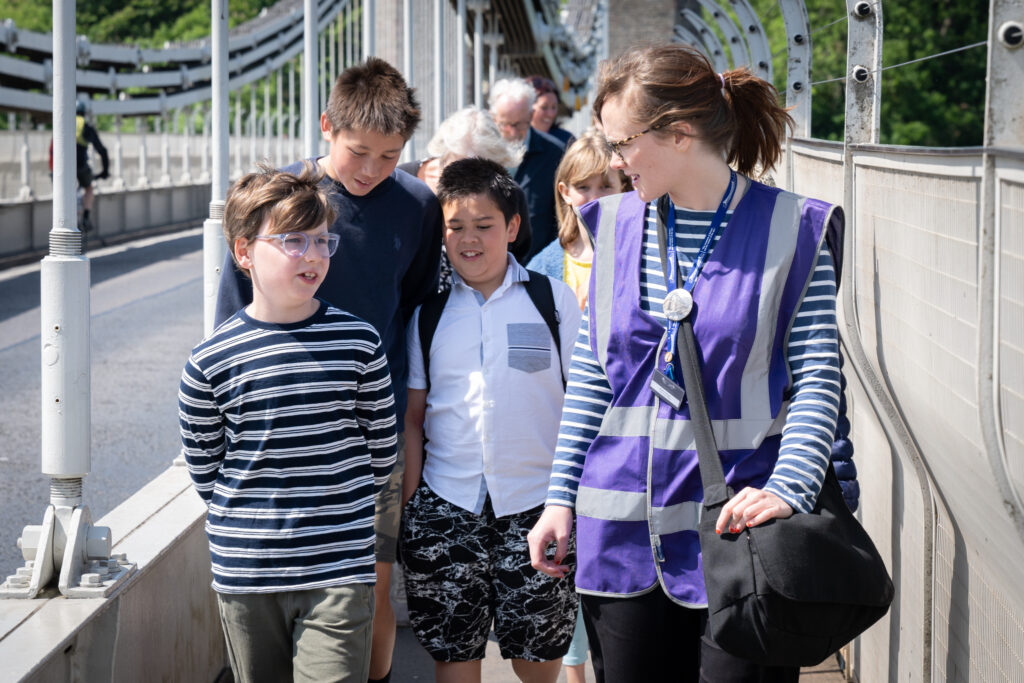 The bridge was going to be the highest and longest in the world. It was designed by a famous Victorian engineer called Isambard Kingdom Brunel, who was only 23 years old when he got the job! Mr Brunel designed and built many other things including the ship, ss Great Britain, and the Great Western Railway which joins Bristol and London. Did you learn anything else about Mr Brunel during your visit?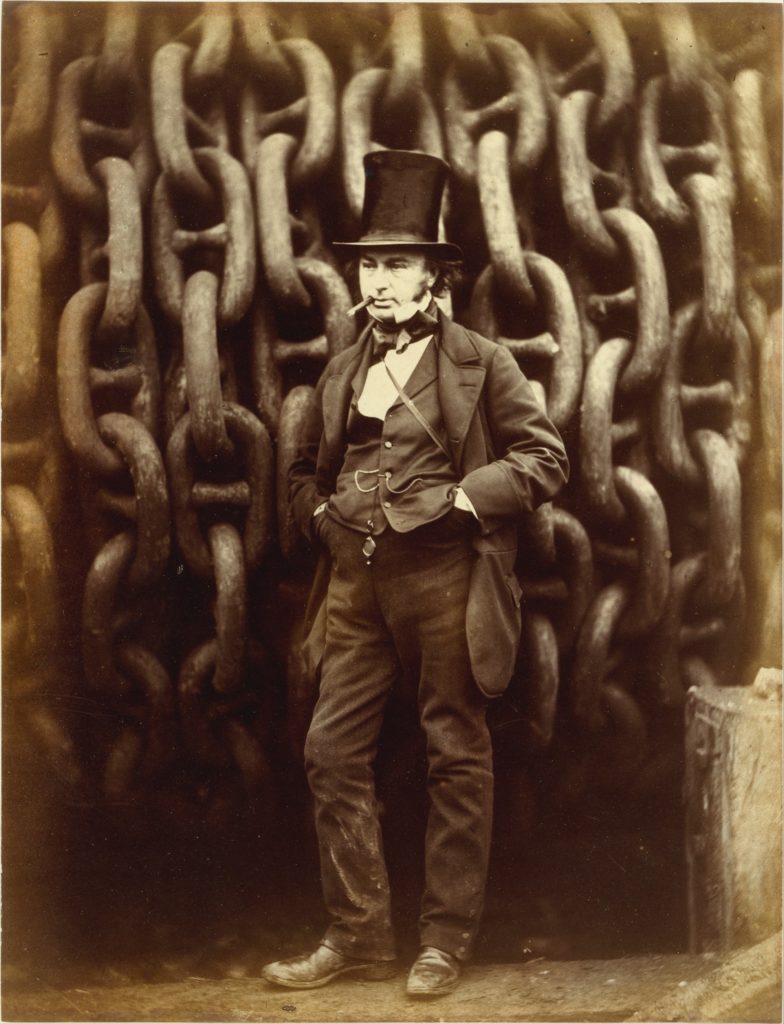 During your tour, you might have learned how suspension bridges work. Sometimes the Learning Team use a length of rope and ask volunteers from your class to help demonstrate how strong the towers of the suspension bridge are and how the iron chains that hold up the bridge deck (the part we walk and drive on) are fastened into the ground. The Team might also have explained how the bridge is looked after, or maintained. Did you see any pictures like this one? Where is the man, and what do you think he is doing? Did you hear any stories about the people who used the bridge in the past?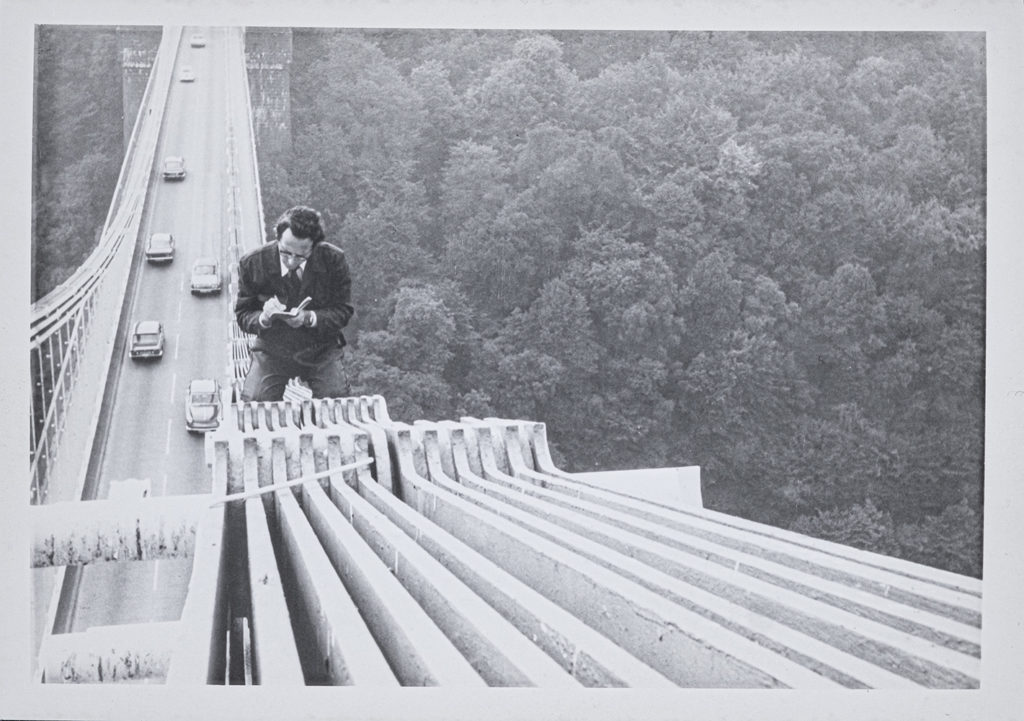 You might have come into the Visitor Centre during your visit too, and taken part in a workshop. You might have built your own bridge and then tested how stong it was. Can you remember what materials you used, how many weights it held, or who was in your team?
If you didn't do this, maybe you looked at real historic postcards from our Archive collection instead. You will have been asked to wear special cotton gloves and to keep your table very tidy, to protect the postcard from damage. How old was the postcard you investigated, and what story did it tell?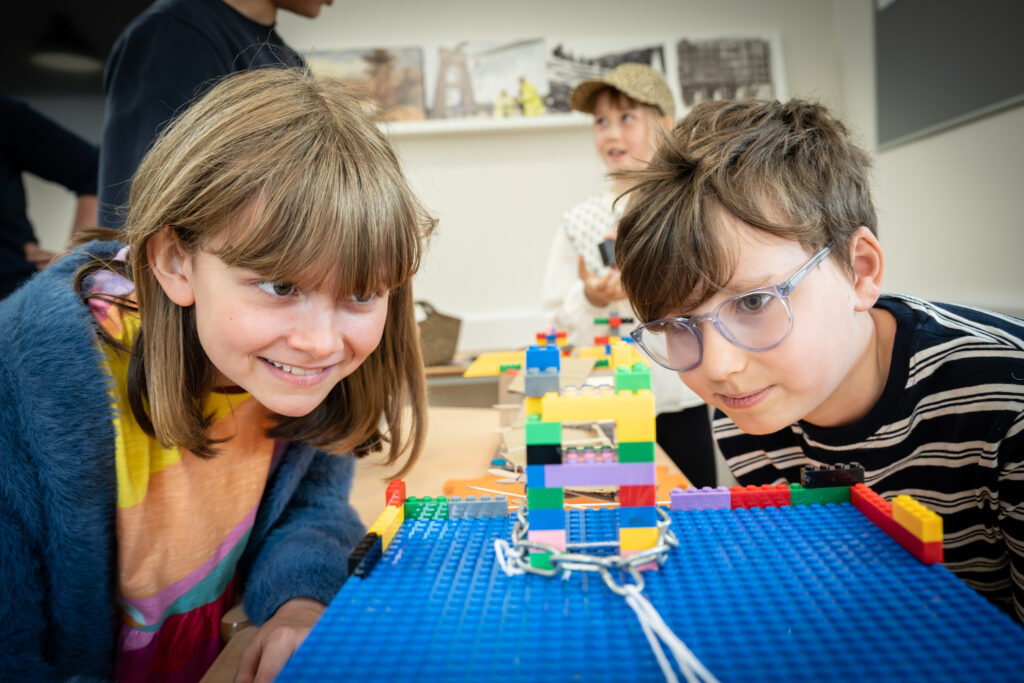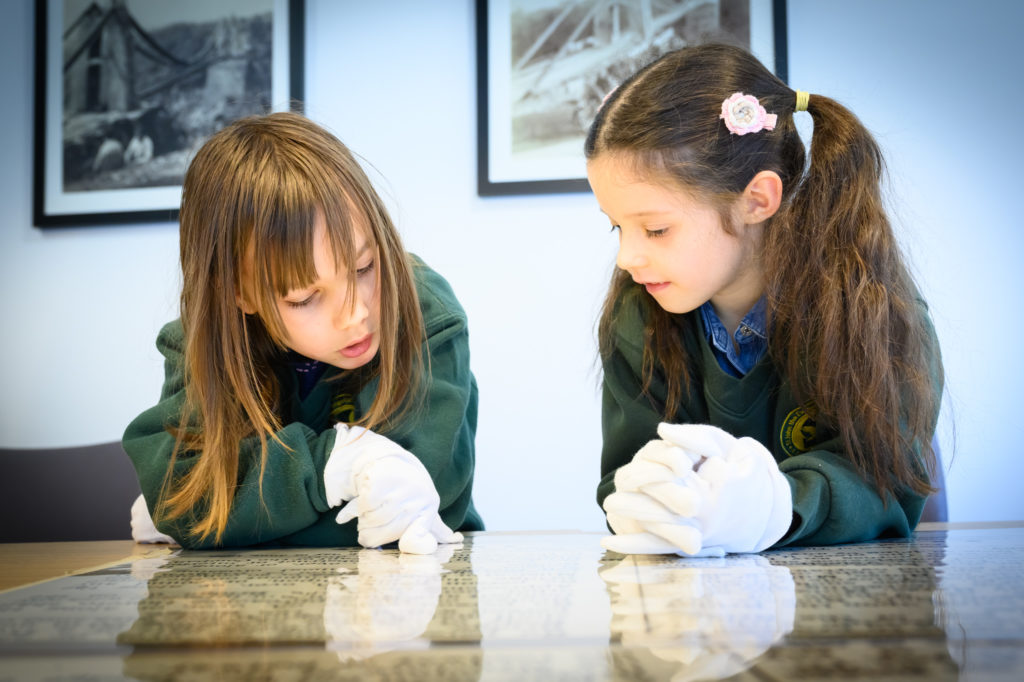 During your visit, you might have had time to look around the Visitor Centre exhibition. Sometimes, if there are lots of groups visiting from the school, there is a quiz to do in the exhibition space and you are asked to find your favourite fact or piece of information. Did you see anything in the exhibition that you thought was interesting?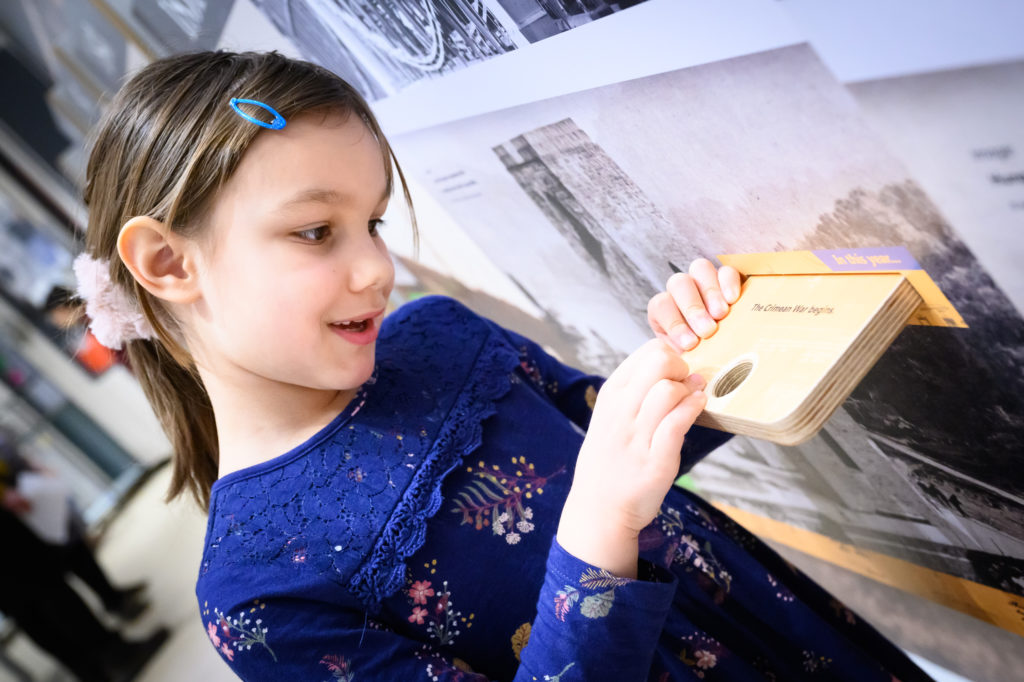 You might have been given a goody bag to take home with you. The goody bag has a copy of 'Brunel, the Bridge and Bristol' in it. This book has been designed to help you explore our Visitor Centre, but there are also lots of activities you can do at home. If you would like to come back and use your trail to explore with your family, we are open every day from 10am-5pm and entry is FREE. Information for your grown-up about travelling to the Visitor Centre is here.
If you did not get a bag, then do not worry – you can either buy a copy of 'Brunel, the Bridge and Bristol' from our shop for £2.75 or have a go at some of the free activites available on our For Families page. Scroll to the bottom of the For Families page to find downloadable colouring sheets, quizzes, and challenges you can try at home using items you can find around the house.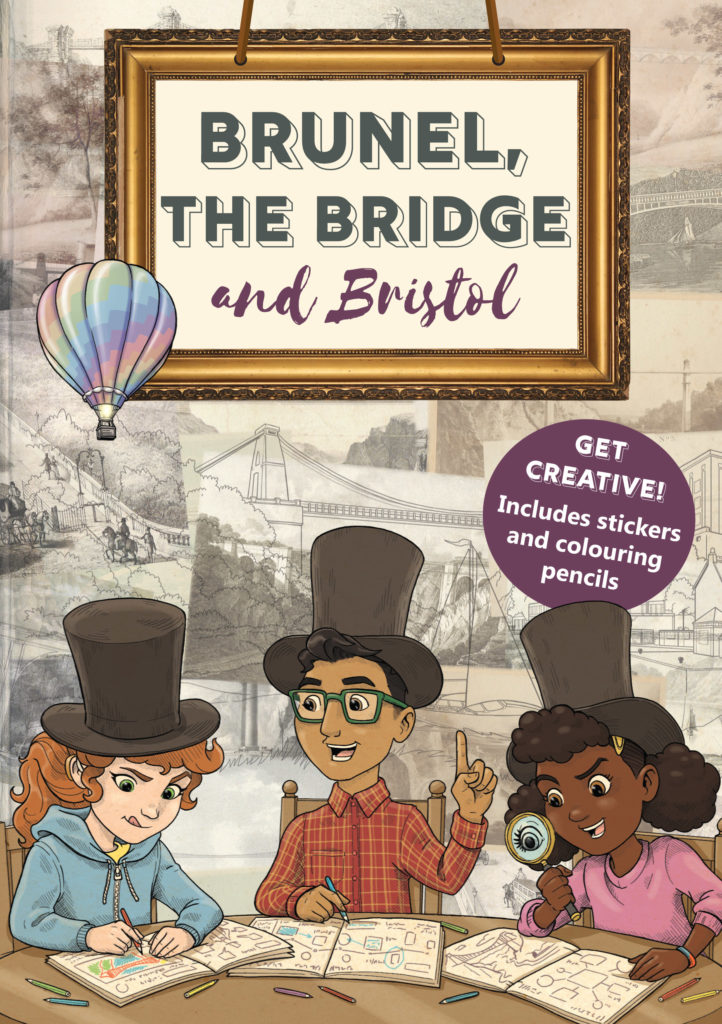 If you decide you would like to visit the Bridge again, here are some suggestions of other FREE and fun activities that will help you to plan your day out:
Pack a picnic, climb Observatory Hill for a great view of the bridge and slip your way down Slidey Rock!
If you have a mobile phone, you can scan the QR codes on the bridge and listen to our audio trail. You will need mobile phone data to do this though.
Say hello to the deer at Ashton Court. There are two herds to find, plus plenty of space to walk, run and cycle. You might even be lucky enough to spot hot air balloons inflating in the summer months.
Get ready for adventure and try our 'Over and Under' walk. The walk involves climbing up the side of the gorge so you'll need to be prepared for the stone steps…
Enjoy the pretty trees at Birdcage Walk – a nice place to go for a stroll in summer. Make sure to check the Discover Clifton website too as there's often a fun art trail to follow in the shop windows and sometimes a prize to be won!