Scroll through any Bristolian Instagram feed and you'll come across an image of the bridge almost immediately. In fact, it's the most Instagrammable place in Bristol and the seventh most popular place for photos in the whole of the UK! Taking photographs is almost second nature to tourists today, but has this always been the case?
Some of the earliest photographs we have of the bridge are stereoscopic. Just as we enjoy using film, panoramas and 360 degree images to capture souvenirs of our days out, the Victorians were keen on their own innovative technology. A stereoscopic photograph consists of two side-by-side images taken at slightly different angles, which, when viewed by each eye, trick the brain into creating a unique 3D image. From the late 1850s and throughout the 1860s, stereoscopic photography was all the rage. This craze allowed people to experience scenes from all over the world in incredible 3D.  You can have a go yourself by looking at the image below through a viewer on a smart phone. Help with stereo viewing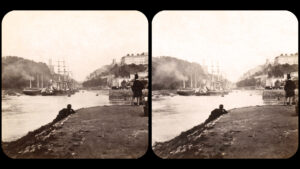 Like today, Clifton Suspension Bridge and the views from it were part of the tourist's itinerary.  Soon after the bridge was opened in 1864, a small wooden hut was set up on the Clifton abutment from where photographs were sold. The photographer, John Beattie, was the first tenant and he sold his own stereocards from this kiosk (see if you can spot it below at the base of the Clifton tower).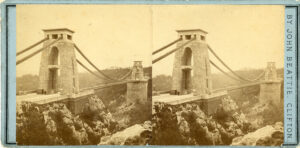 One of the main companies selling stereoscopic images in the Victorian era was the London Stereoscopic Company; in recent times the company has been resurrected and continued by Dr Brian May. We are very fortunate to be able to exhibit digital 3-D images from The Brian May Archive of Stereoscopy in our Visitor Centre, alongside images of the bridge from the Adrian Andrews collection of stereocards.
If you can't afford to visit in person, historical stereo views of the bridge with a specially-designed 'owl' viewer are available to buy exclusively from our online shop or the London Stereoscopic Company.
With sincere thanks to The Brian May Archive of Stereoscopy and the London Stereoscopic Company, Denis Pellerin, Rebecca Sharpe, Robin Rees, James Symonds and Dr Brian May.

Our Collections
Our collections demonstrate the enduring renown of Bristol's most iconic landmark. Items range from historic souvenirs, commemorative chinaware and postcards to artworks, prints and photographs of the Bridge. You can search our collection archive below: