In December 2012, we were awarded a grant of £595,000 by the Heritage Lottery Fund to help us create a brand new Heritage and Learning Centre on the Leigh Woods side of the Clifton Suspension Bridge to replace our original Visitor Centre, which had closed in 2006.
We worked with Alec French Architects, who came up with the design and layout of the new Centre, along with a new Maintenance Yard. Planning permission was granted in Autumn 2012 and Rydon began construction works in October 2013. The new Centre opened on 8th December 2014 – the 150th anniversary of the opening of the bridge.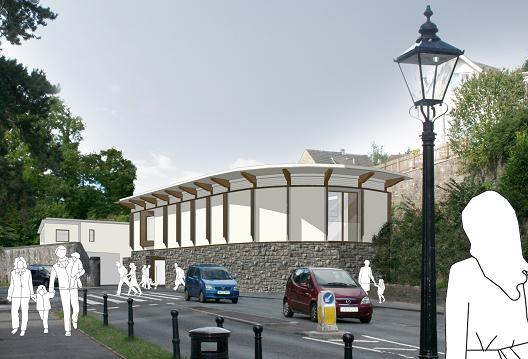 The design concept – Alec French Architects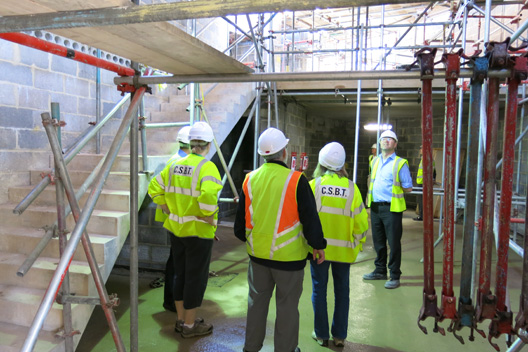 The building – June 2014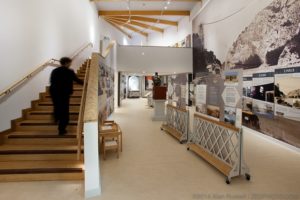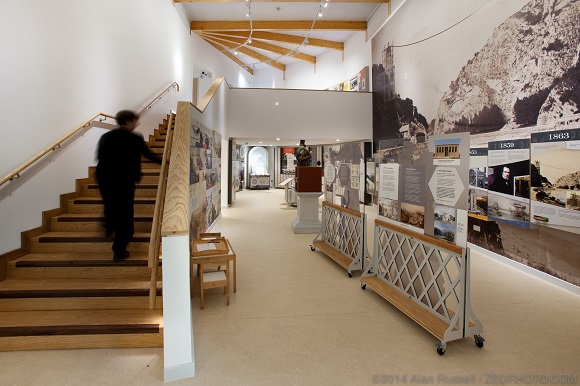 The finished building, seen during our Anniversary celebrations on 8th December 2014
Designing the Exhibition
In April 2013, we appointed CodSteaks as our interpretation design consultants. CodSteaks has over 30 years of design and build experience in the museums and heritage sector and have worked in Bristol on projects for M-Shed and ss Great Britain, but you may be familiar with their work as they are also model makers and set builders and created the scenery and ship for the Oscar nominated film 'Pirates! in an Adventure with Scientists!' as well as sets for 'Wallace and Gromit'.
Our volunteers worked very hard to help us decide what we should include in our new exhibition, and how we should present it. Volunteers visited the Brunel Institute, ss Great Britain, M-Shed, the Rocks Railway and the Parliamentary Archives and helped with the format and presentation of information, proof reading text and developing the design of the exhibition.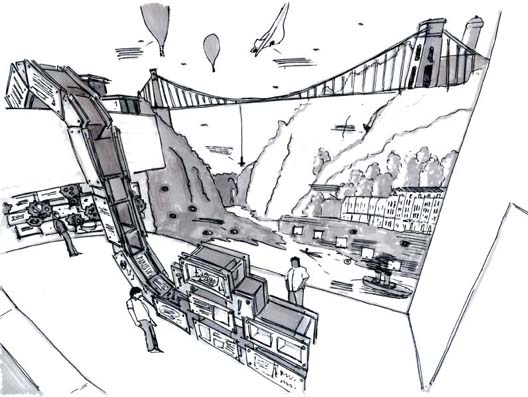 A first draft of the exhibition design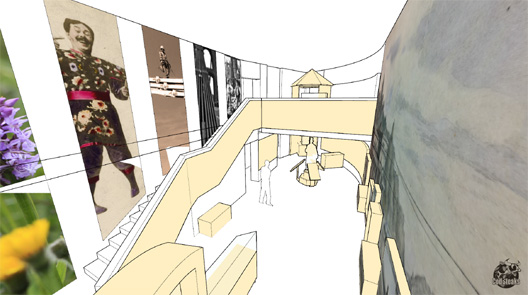 Development of the design – March 2014
Community Learning and Volunteer Officer
In June 2013, we welcomed a new Community, Learning and Volunteer Officer in a role funded by the HLF for three years. As well as working on the new exhibition, our CLV Officer helped to develop:
A new talks and tours programme
An 'Explainers' project with volunteer greeters
Family art activities
Workshops for adult learners in association with the WEA
Work experience placements and internships
An oral history recording scheme
Consultation activities and focus groups to find out what visitors thought of the new exhibition
New educational opportunities for schools
A youth programme
We also worked with:
Circle Interactive – to revamp and refresh our website
Hummingbird films – to produce a new documentary about the Bridge – now on show in the Heritage and Learning Centre
A team of students from UWE (headed by Dr. Charlotte Crofts) and Calvium Ltd – to create a new mobile phone app
The Workers Educational Association (WEA) – to create new courses for adult learners
West of England Local Enterprise Partnership – to create careers training opportunities for young people
Knowle West Media Centre – to create a city-wide game for young people
Creative Youth Network – to develop a programme of confidence-building activities for young people
Consulting the Community
We'd like to thank all of the following people, who helped to give us a clearer idea of the services we decided to provide and who helped to shape our project!
St George's Primary School, St Werburgh's Primary School, St John's Primary School, Merchant's Academy Secondary School, St Mary Redcliffe and Temple Secondary School, Mangotsfield School, Specialist Colege in Engineering and Science, Ashton Gate Primary School, Perry Court Schools, Marshfield Primary School, University of Bristol (Professor Colin Taylor and Professor Guy Orpen), University of the West of England (Charlotte Croft and Professor Johnathan Dovey), Our Place and Doctor Randy Lee Comfort, Worker's Educational Association (Lesley Dale), Hareclive Youth Centre, Hareclive Girl's Group, Bristol South Disabled Young People, Hartcliffe NEET Group, Freedom South, Out and Proud, Open Access Members of South Bristol Youth Services, Cliftonwood & Hotwells Historical Society, Future Brunels, Creative Youth Network, SS Great Britain and the Brunel Institute, Underfall Yard, M Shed, The Architecture Centre, Destination Bristol, Bristol Museum and Art Gallery, Bristol Records Office, Bristol Post, Ironbridge Museums, South West Federation of Museums, Menai Bridge Community Heritage Trust, Tower Bridge, Newport Transporter Bridge, Ruth Gofton and John McVerry (Heritage and Community), Jo Reid (Calvium), Mandy Lievers (Avon Gorge and Downs Wildlife Project), June Burrough (St Paul's Residents), Tina Bond (Children and Young People's Services, BCC), Elke Hein (Community Learning Teams), Victoria Stanfield (National Trust, Leigh Woods), Val Lowden (Retail Advisor), Melanie Rees (Special Educational Needs Co-ordinator), Penny Snow (Age UK), Adrian Andrews, Mike Pascoe, Francis Greenacre, Alison Turner, Libby Houston, Julie Reynolds, Gordon Young, Kathie Knowles, Mike Crozier, John Mitchell, Heritage Stone Access, Ray Brown, Marion Roach, Pete Hillier, Anna Farthing, Sabrina Pisoni, Mike Rowland
What Happens Now?
Our brand new Visitor Centre is open from 10am-5pm daily throughout the year. Entry is free, so come along and enjoy our wonderful exhibition or have a chat with our wonderful volunteers! Take a free tour of the bridge every Saturday, Sunday or Bank Holiday between Easter and the end of October or keep an eye on our events page where you'll find a list of all our family craft sessions, walks, talk, tours and underground adventures. Our CLV Officer is still with us and is busy planning lots of exciting new projects to improve resources for schools visiting the bridge – as well as developing fun new workshops for all ages. This is just the beginning and we have lots more plans in process!