The Union is a new project inviting anyone with a romantic connection to the bridge – from first dates to proposals and anniversaries – to add their story to a new online collection at theunion.cliftonbridge.org.uk. But what happens to those stories after the project is complete, and how might they be preserved for the future? At the Clifton Suspension Bridge Archivist Hannah Little is interested in things that tell the story of the bridge and cares for the collections, ensuring that they are preserved and available for generations to come.
Hello Hannah! What would we find if we looked in the Archive?
"Objects in the collection range from early souvenirs, such as a medallion commemorating the opening of the bridge in 1864, to papers documenting how the bridge project was managed from 1828 onwards, to the latest digital files created yesterday – such as an engineers' AutoCAD drawings. The collections cover a range of different media – we have oral histories, photographs, correspondence, ceramic souvenirs, postcards, bound minutes and even pieces taken from the bridge for testing or sampling. However, The Union opens up a chance to collect in a different way – one area in which we are hoping to develop our collections is to preserve different people's personal stories: Why is it a significant place for people? What does the bridge mean to them personally?"
What has been your role in The Union?
"I have been supporting the team as they've developed the collecting criteria and methods – ensuring that if anyone does want to submit something that we can be clear about how their story will be used and looked after. My role means that I am also interested in preserving the context for each story so that it can be used and understood in the future."
How do you see The Union developing over the next year?
"The exciting thing about The Union is the opportunity to collect unique stories told in different voices. The bridge has often played a part in public celebrations; but what about personal celebrations? It offers a way of documenting why the bridge is special to people. My hope is that people will join in to share and celebrate these stories."
What will happen to the stories collected?
"Some of the stories submitted to the project will – with the right permissions in place – become part of our permanent archive. This means that contributions will be preserved digitally, described through our online catalogue alongside our other collections and made available to the public for research purposes."
What's next for you?
We are currently working our way towards becoming an Accredited Museum: this is a national UK standard that involves improving our collections management and access. I am always interested in ways in which we can improve access to our collections – this year we are very lucky that the London Stereoscopic Company are lending us a digital stereoscopic viewer which will enable some of our photographic collection to be shown in the Visitor Centre throughout February half-term.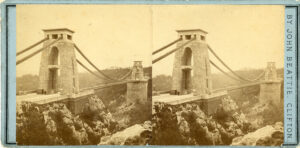 The project is a collaboration between the team at Clifton Suspension Bridge Visitor Centre and Creative Strategist and Designer Emily Sorrell, supported by Art Fund's Reimagine grant which aims to help museums, galleries and cultural organisations better engage with their communities following the pandemic lockdowns.