Across the world, bridges are used as symbols of love and connection. Clifton Suspension Bridge is no exception, with many couples choosing it as a special place to mark key moments in their relationships, such as those who have chosen the famous spot to pop the question or declare their love. The Union is a new project inviting anyone with a personal connection to the bridge – from first dates to proposals and anniversaries – to add their story to a new online collection at theunion.cliftonbridge.org.uk.
The project is a collaboration between the team at Clifton Suspension Bridge Visitor Centre and Creative Strategist and Designer Emily Sorrell. The project has been supported by Art Fund's Reimagine grant, which aims to help museums, galleries and cultural organisations better engage with their communities following the pandemic lockdowns.
Hello Emily! What is a Creative Strategist, and what does that involve?
"I have one of those jobs that changes in different contexts, so my job title is always evolving. In a nutshell, I work to find innovative engagement opportunities for museums and cultural organisations; Creative Anthropologist might be a better description, or perhaps Experience Architect! Typically, I work with museums to find opportunities for innovation, and then we work together to make them happen."
How did the project with the Clifton Suspension Bridge come about?
"During the first lockdown, museums across the UK were forced to close indefinitely, and the future of our cultural sector was called into question. Wanting to offer support in my own small way, I wrote a love letter to the UK's heritage organisations, offering free creative consultations to museums who wanted to use the unexpected intermission to re-imagine how they might approach things once they eventually re-opened. Laura, who runs the Visitor Centre, got in touch on behalf of CSBT, and the rest is history!"
Once the idea for The Union had been created, how did the project become a reality?
"Early on in our conversations Laura had mentioned in passing that the bridge is a popular place for couples, with regular proposals and first dates. The structure had stood, completely unchanged as people lived and loved around it for more than 150 years, and there was something about this idea of a hidden, anecdotal, and utterly human history of the landmark that kept drawing us back in.
Museums have often been centred around telling and teaching, but we knew this project would be first and foremost about listening and learning, gathering stories and memories of the bridge, sharing its complete history, in context. With the details of the concept ironed out, we gained funding through Art Fund's 2020 Reimagine grant, designed to inspire creativity and increase stability for museums across the UK. We were delighted that the project was accepted onto the scheme, allowing us to experiment with this proposal and a new way of working, whilst meaningfully engaging with a broader audience."
What has been your role in the project?
"Throughout this project I have had the pleasure of wearing a number of hats: leading design (creative and strategic direction), as well as project management. We are a small team working on the project, with Laura and I overseeing the bulk of the work, alongside the Trust's archivist, Hannah. This is such an enjoyable and exciting way to work collaboratively, with everyone contributing and gaining skills in equal measure.
The visual system in particular was a joy to work on, with a beautifully understated aesthetic inspired by archival systems and newspaper clippings, carefully balancing a modern aesthetic with a vintage mood. I designed a custom logotype, working with ligatures to echo the sense of 'union' felt throughout the project. Jewel tones bring added interest when needed, against a primary palette of subtle paper whites.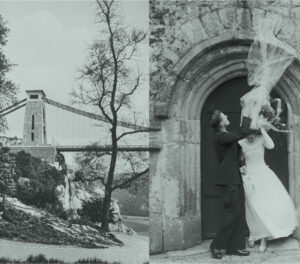 The highlight of the whole design process for me was sourcing photographic material, using formal, architectural images of the bridge (from the Trust's own archives), alongside candid portraits of couples from the South West, from the George Ellis Collection. The Ellis collection is a series of around 95,000 images taken between 1939 and 1982 (mostly glass plate negatives), that are slowly being catalogued and digitised in the care of Kresen Kernow. This incredible archive is just on my doorstep in Cornwall, and scrolling through all of the material one Sunday afternoon, I felt so deeply connected to the people in the photographs. The couples were worlds away, but unlike traditionally posed portraits, Ellis had captured such relatable expressions and emotions in their faces; I couldn't help but wonder about their lives and stories. Huge thanks to Kresen Kernow for allowing us to work with the images.
The images of the bridge and the portraits are paired and carefully collaged to seemingly flow from one to the next, bridging our industrial and human histories to tell a more complete historical narrative."
How do you see The Union developing over the next year?
"From August 2022, we are launching a limited number of pledges and rewards; If you, or someone you know has a personal connection to Clifton Suspension Bridge, you will be able to support us by making a donation, in exchange for one-of-a-kind limited edition memorabilia and rewards, specially designed for The Union. Your pledges will go directly towards preserving the Bridge's history, and supporting our education programme.
Of course, we will also be continually updating the collection on the website and will be sharing highlights on instagram @brunelsbridge_theunion. I'm excited to see how people engage with the project and I very much look forward to reading the stories as they come in. I hope that the histories gathered are representative of the many wonderful humans living in, and travelling to Bristol, celebrating love in all its forms. I hope that (with your help) we will be able to preserve many different perspectives through the project."
What will happen to the stories collected?
"The Trust's expert Archivist, Hannah will be overseeing the collection and handling of stories. Once submitted online, selected stories will be shared on The Union website for others to explore until the project closes. People may also choose to entrust their story to CSBT's permanent archive, to be stored digitally and made available for private study and research in the future."
What's next for you?
"I have a few quiet months to recoup before my next project begins; I am delighted to be working on a research residency at Coldharbour Mill Museum in Uffculme over the summer of 2022. Coldharbour is one of the oldest working (and best preserved) textile mills in the UK, and a truly amazing time capsule in which to experience our industrial heritage. As Designer in Residence, I will be tracing the collection's enduring relevance, across the past present and future, exploring how textiles and human lives have always been woven together. The residency will culminate in the design of a multi-sensory installation inspired by the Museum's collection.
I am currently accepting enquiries for work for Winter 2022 and beyond. If you or your organisation would like to discuss the possibility of a creative collaboration, or you just fancy a chat, please do get in touch: emilydoesdesign@gmail.com"