Throughout the years the bridge has been illuminated to celebrate coronations and royal jubilees. It was lit with candles and fireworks in 1911 for the coronation of King George V and Queen Mary, and with 3,000 electric bulbs for their Silver Jubilee Celebration in 1935, and for the coronation of George VI in 1937.
Illuminations for the Queen Elizabeth II's Coronation in 1953
This system used 6 miles of cabling and included crown decorations on top of each toll house. The installation was carried out by local firm, Gough Brothers Ltd. Watch the hair-raising work of installation in this fantastic film.
Rod Palmer worked as an apprentice for the Gough Brothers Ltd at the time and features in the clip. His son, Mike Palmer, got in touch with us to tell us their family story:
'Dad used to take my Mother while they were courting, up onto the Bridge when it was his turn to replace bulbs that had been 'borrowed' on the easy to reach areas, and she would hold the box of bulbs while Dad would replace them. Mum says he had no fear of heights which was useful on this job.'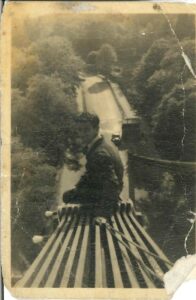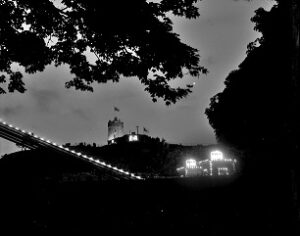 Do you remember the Coronation illuminations or have a family connection to this work on the bridge? If so it would be great to hear from you.
Next steps
To find out more, or to get in touch, please contact
Hannah Little, Archivist
Our Collections
Our collections demonstrate the enduring renown of Bristol's most iconic landmark. You can search our collection archive below: