For many years Clifton Suspension Bridge Trust has been working with engineering consultants COWI and geotechnical consultants Geo-Design to monitor and maintain the rock face below the Clifton abutment. The Trust has now engaged Ibex Technical Access Ltd to install rock bolts to ensure the continued stability of the rock face along with surface barriers to prevent weathering (dentition). This work is a precautionary measure.
The Works
Site Set-up
Ibex will be setting up a site compound on the green adjacent to the Clifton toll house. A fenced-off path will lead from this main compound to a satellite compound at the observation point below the abutment, and the work face will be accessed from here.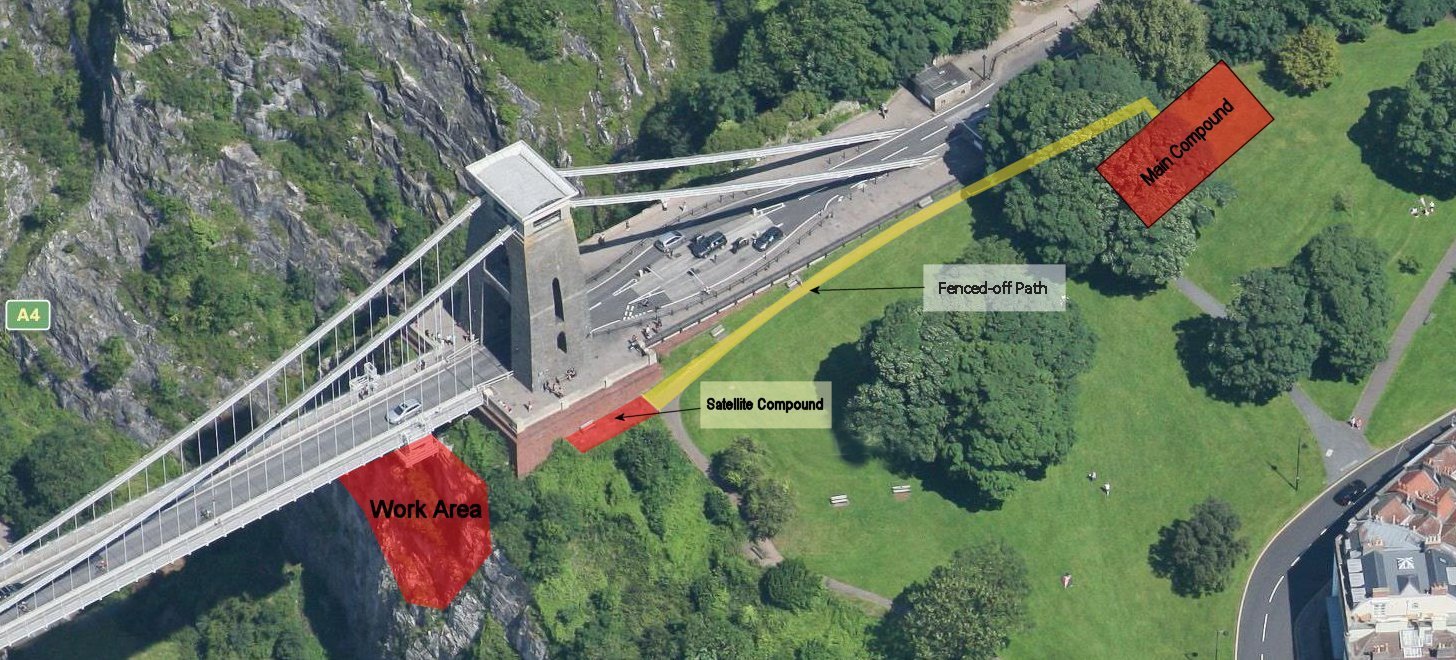 Rock Bolts
Ibex will be installing 23 rock bolts, each 27mm in diameter and varying in length between 4 and 6 metres. The drilling rig will be delivered to the top of the rock shelter above the Portway, then winched into position from above. Once a hole has been drilled, a tube of strong but flexible textile (a grout sock) will be attached to a rock bolt to mitigate the risk of grout loss into the naturally occurring joints and fissures in the rock. The rock bolt will then be lowered down the cliff and slotted into place. Finally, cementitious grout will be pumped in, filling the grout sock and securing the rock bolt.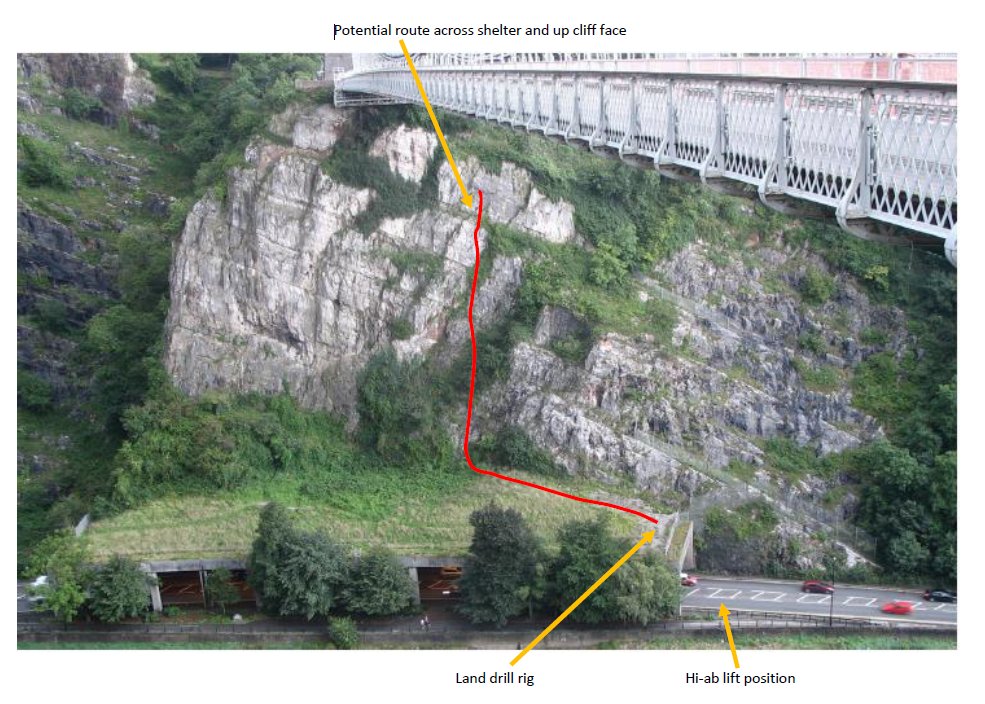 Route for moving drill rig into position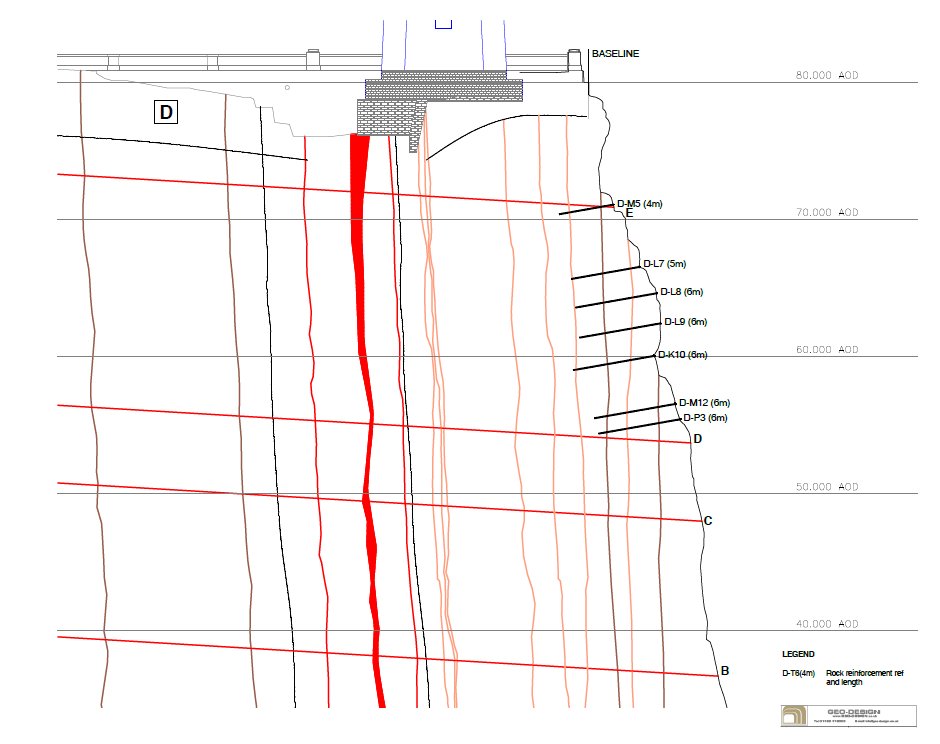 Rock Bolt Locations & Lengths
Dentition Work
The cliff is made up of Carboniferous Limestone, which often has naturally occurring joints or fissures. To prevent water from collecting and damaging the rock face, fissures will be filled with a low-permeability, fibre-reinforced cement mortar.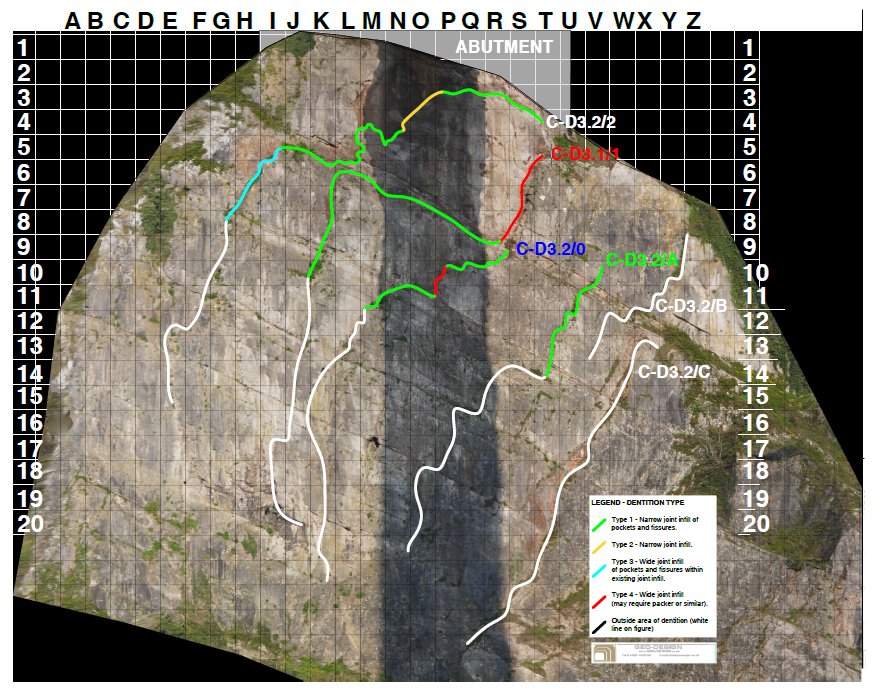 Locations of dentition work
Working hours and project duration
Work will take place between 8am and 6pm Monday to Friday, and the project is anticipated to complete by mid-September.
Protecting the Environment
The cliff below the bridge abutment is within a Site of Special Scientific Interest (SSSI), which also comes under the Downs Conservation Area. Ibex has planned the works to minimise environmental impact. Ecologist Libby Houston was commissioned to carry out a study of the work area which determined that no rare plants are present, and Natural England has given its consent for the works.
Safety
The works will be carried out by fully-trained roped access technicians and will take place above the middle third of the rock shelter which protects the carriageway below. Local climbing groups have been contacted and asked to avoid the area for the duration of the works.