Recently I was lucky enough to experience a day in the life of a photographic conservator and it proved very interesting. I was given the opportunity to work on the Adrian Andrews stereocard collection from the Clifton Suspension Bridge Archives with photographic conservator, Sarah Allen. The collection includes over 200 stereoscopic images.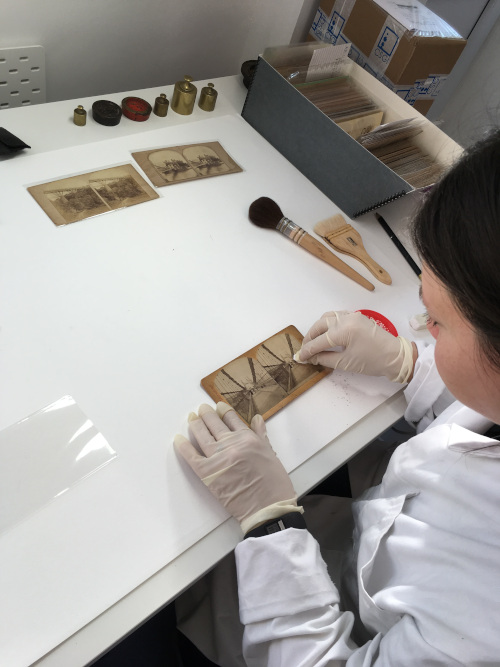 Photographic conservation is similar to restoration, except instead of restoring the photograph to make it like new, the point of conservation is more to preserve the life of the photograph and also to assist in investigation by making the image clearer for researchers. (Please do not try the following at home. For the sake of preserving your valuable photographs, please enlist the advice of a professional instead of undertaking the following by yourself.)
I spent a good portion of the day planning and creating supports for the freshly conserved stereoscopic cards. This involved measuring a stiff card template to help provide proper support for each of the 209 stereoscope images. I measured the sleeve width and length, cut out a template from the card, used the template as a base for strips of card that I then held together with a clip and cut out batches of card with a scalpel and straight-edge. I then placed each card support into its individual sleeve. The storage system that was decided upon by the conservator was polyester sleeve sheets with three sleeves per each sheet. Once filled with card and conserved photograph, the sleeves will be placed in a hanging box file binder. This system allows for the least amount of pressure to be placed on each photograph, thus helping to preserve the lives of these beautiful images for longer.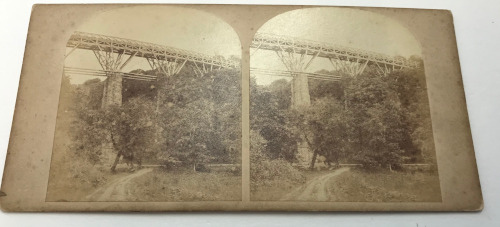 Image of stereoview after it had been cleaned showing the Menheniot Viaduct.
The remainder of my time in the studio was dedicated to cleaning the images to make them clearer for researchers to understand how bridges were constructed in the nineteenth century. Another reason to clean photographs is to prolong their life. Soiled/dusty photographs attract more and more dust which builds up and produces more problems down the line. So, cleaning them is a good way to halt this process. Conservators always start with the least intrusive methods of cleaning. We want to have as little to do as possible with the object to prevent damage through handling and overcleaning. By this methodology then, the first steps are always gentle methods such as brushing the photographs with a soft brush to remove any overt surface soiling. If this doesn't work, slightly more invasive methods can then be used which will still safely remove the soil without damaging the photograph. In this case, a solvent was applied with cotton wool working methodically and gently across each image until the majority of the soil was removed. In conclusion, I had an excellent time helping out Sarah with this project – the results of the digitisation part of the project can be explored through the new online catalogue.
Brittany Bishop, Volunteer