We are looking to recruit a new team of Education Volunteers to help us to deliver our schools programme. For those of you who are interested in joining our team, or just interested in what we do I thought this blog would be a great chance to tell you!
My name is Kat and I am responsible for recruiting volunteers and organising the delivery of the education programme. I have worked here for nearly 3 years, and I am constantly bowled over by how committed and passionate our volunteer team is. The Clifton Suspension Bridge Trust is a registered charity. The Trust is responsible for the running and the maintenance of the Clifton Suspension Bridge. Our new Visitor Centre was opened in 2014, with the aim to be a space to allow for learning about the bridge for all ages! We are passionate about history, engineering, science and Maths. The Visitor Centre does not receive any funds from the bridge tolls so we aim to be self-sufficient by charging a fee for guided tours and education workshops. We also have a small shop and ask for donations upon entry to the Centre. Without our team of over 60 volunteers we would not be able to open the Visitor Centre or offer education visits.
Last year we received over 54 educational bookings from Schools from all over the South West, a total of 2552 students learnt about the bridge by taking part in a guided tour or a hands-on workshop. Our most popular workshop is our bridge building challenge, we have several version depending on the year group taking part. The aim of the workshop is to build a bridge which is cost effective, strong and aesthetically pleasing. The workshop is paired well with our Bridge tour which tells the story of the bridge in chronological order from William Vick to modern day maintenance.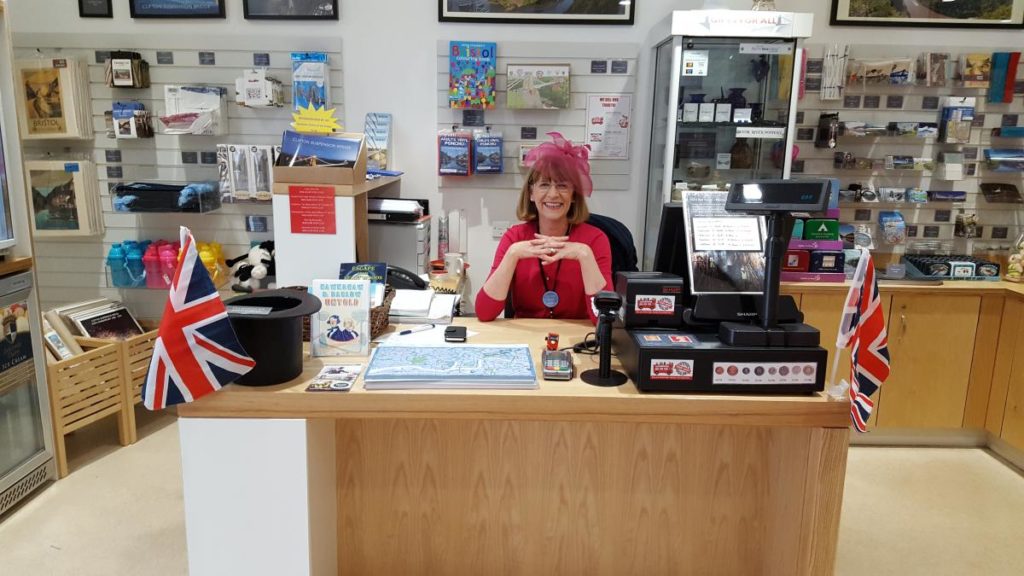 Liz Young has been an integral part of the Volunteer Education Team and has been with us for 4 years, Liz tells us her experience of volunteering with us:
"In 2015 I found that I really liked working with primary school children in the Reading Recovering Programme at Brunel Field School. This gave me the confidence to volunteer at the Clifton Suspension Bridge working with a range of children on bridge-building tasks. Initially, I shadowed Visitor Centre staff on a 'small' bridge-building exercise with a 50g weight. This gave me an insight into the forthcoming Educational Programme. The children design their own bridge and construct it out of newspaper, sellotape and string. The bridge must be capable of holding a 1kg weight.
From March 2016 until the end of December 2016 I volunteered regularly at the Visitor Centre and developed my skills with the Schools Educational Programme – from badge-making to bridge building. During 2017 I volunteered for as many of the Bridge Building Workshops as I could.
I thoroughly enjoy the children's energy and am constantly amazed at the designs they come up with! An all-girls team from Wraxall Primary School designed and built a bridge which held 20kg – as much weight as you take on board an aircraft on a flight!
It is interesting to be able to help with the older age groups as well – ages 13-14. This age group require a bit of encouragement to get going, but once they start they make extremely good bridges.
The design brief has changed slightly for the older age groups, with them using more complex materials, and this has proved extremely successful.
I can highly recommend volunteering for the bridge-building workshops. I get satisfaction from assisting and sometimes leading the workshops and I know the young people complete the workshops feeling pride in their work."
We need your help!
We want to expand our education offer to allow more schools to visit us and still keep our high standards of delivery. We would love to find help to:
deliver tours for primary school and secondary schools
deliver workshops for primary and secondary schools
design new workshops and activities
lead free family tours during the school holidays.
outreach workshops and talks
All volunteer positions are flexible, and training is provided. All volunteers will be DBS checked. If you are interested please contact us on:
getinvolved@cliftonbridge.org.uk
0117 974 4664