Children's Trail
If you're planning to spend time in the Visitor Centre, whether on a self-guided visit or as part of your booked day with us, our children's trail will come in useful.
Children's Trail
The trail provides learning activities targeted at KS2, some of which must be completed on-site – and others which can be done back in the classroom or at home. It is packed with information on Brunel and the bridge.
One trail: £2.75
Groups up to 29: £1.80 per trail
Groups of 30 or over: £1.50 per trail
Pick up your trails from the Visitor Centre or order online in advance of your visit.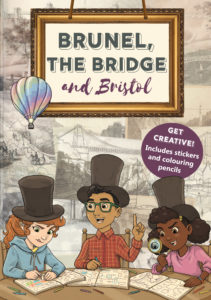 Our 'Brunel, The Bridge and Bristol' Activity Book is hand-illustrated and made in the UK by Colour Heroes.