On 7th December 2014, we celebrated 150 years since the opening of the Clifton Suspension Bridge with a magnificent fireworks display which attracted almost 70,000 spectators.
What an incredible day – and a joyous way to begin our celebrations! But we didn't stop there! Monday 8th December marked our anniversary 150 years to the day and we had planned an extra tribute to all the people who had worked on the bridge, past and present. At 12.00 midday, we recreated the procession which had crossed the bridge at the same time 150 years before. As best as we were able, we copied the original list of invitees and were joined by brass bands, dignitaries, engineers, bridge workers and the descendants of those who had worked on the project originally.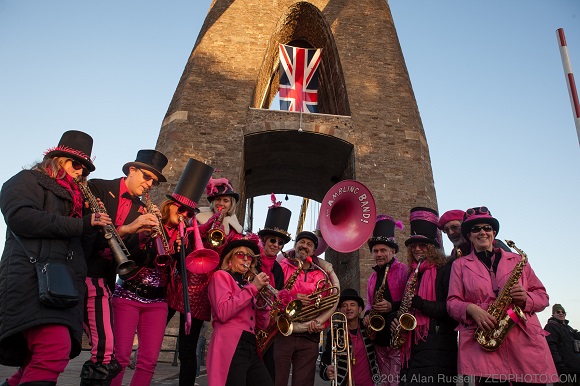 The Ambling Band at our 150th Anniversary Procession. Image by Alan Russell, www.zedphoto.com
Although it was a cold and windy December day, we all enjoyed ourselves, knowing that the weather had been even worse in 1864! The day was made even more special by being the first time our new Visitor Centre opened its doors to the public. Two months on and we have now welcomed over 1,000 visitors and received some wonderful feedback about the brand new exhibition which tells the story of the bridge and the people who did and still do work on it. It has been an extremely busy period for us, but we're looking forward to our first summer season and are busy developing a fantastic new programme of events and activities for you to get involved in!