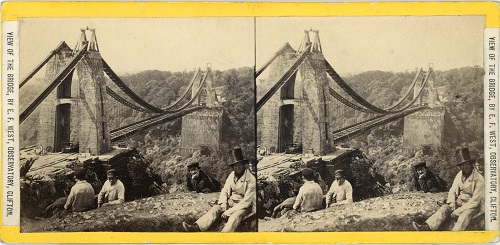 A collection of Victorian stereoviews of Clifton Suspension Bridge and other significant bridges from across the globe have been conserved, digitised and made available online thanks to support from The Murless Fund (SANHS) and the Aurelius Charitable Trust.
In 2018 the archives of Adrian Andrews – an expert in the history of engineering and of the Clifton Suspension Bridge – were donated to the Clifton Suspension Bridge Trust. Within the archives was a collection of over two hundred stereoscopic photographic cards, one hundred of which feature the Clifton Suspension Bridge and the Avon Gorge area. Stereoscopic views were immensely popular from the late 1850s onwards. The technique uses two photographs taken from slightly different angles to replicate human vision; when seen through a viewer the illusion of a 3-D image is created. Within the Collection are images showing the Clifton Suspension Bridge's abandoned towers and its completion from 1862 to 1864. These offer a rare visual record of its construction. The photographs show workmen atop the towers hauling up 24ft-long wrought iron links, and jib cranes, scaffolding, and other equipment taking materials up and across the Avon Gorge.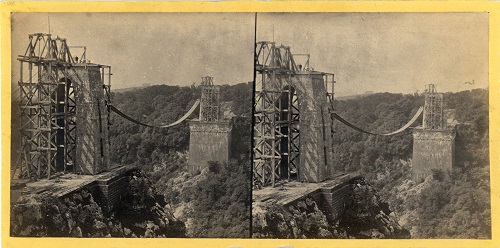 The images also document changes on the Bridge after construction, for example, the original kiosk, gas lighting and signage prohibiting trotting. Other images demonstrate the Avon Gorge's centrality to Victorian Britain: its paddle steamers, ferry, quarry workings, taverns, the Portishead Railway and tourist sites such as Hotwells Baths.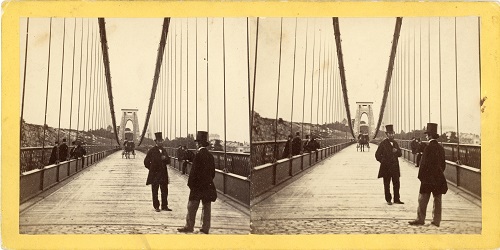 The work of local photographers are represented in the collection: for example, Edwin Francis West (1822-1880), son of William West, and owner of the Observatory on the Clifton Downs; J & J Dutton, photographers based in Bath; and John Beattie (1820-1883), who paid a license to sell items from a kiosk on Clifton Suspension Bridge.
As well as being light sensitive, the stereocards were well-thumbed and quite dirty with a few suffering from mould damage. Dirt and mould not only adversely affects the chemical stability of the photographic emulsion and exacerbates fading; it also reduces the quality of any digitised image. This is why it was decided to have the items stabilized and cleaned by a professional photographic conservator before they were digitised.
For more information about the collection please contact Hannah Little, Archivist, email: archives@cliftonbridge.org.uk.
The Clifton Suspension Bridge Visitor Centre team is very grateful to The Murless Fund (SANHS) and the Aurelius Charitable Trust for enabling these photographs to be made more accessible for future generations to enjoy.