In the Visitor Centre our upstairs exhibition has been refreshed with some help from our wonderful intern, Karen Van Neyghem. On display are a couple of Victorian souvenirs and a 1950s Wedgwood plate.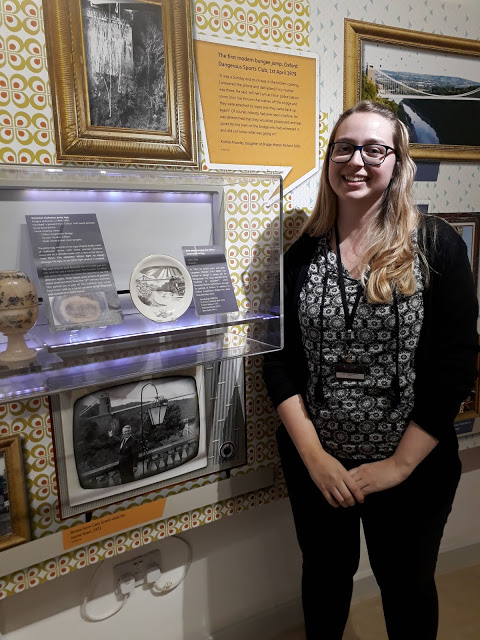 Intern Karen Van Neyghem stands in front of our exhibition display.
The first Victorian souvenir is a frog mug decorated with a coloured image of the Bridge. It was perhaps bought as a present for Thomas Symons of Newnham, which is the name displayed on the back. Inside the mug, two biscuit-coloured frogs crouch as if ready to leap. The bottom of the interior has a popular image of a small child reading a newspaper and smoking a pipe, with the caption "Our Early Days / Now I'm A Grandfather". Perhaps Thomas would have been surprised as he finished his birthday mug of cider to see a frog emerging, who knows?
The second object is a Victorian peep egg. This consists of an egg-shaped body made of alabaster stone, with three printed pictures mounted on a spindle inside with a lens at the top to view them. The handle on the side of egg allows the viewer to rotate the spindle to see the different sights peeped at through the small lens – in this case the sights were a view of Clifton Suspension Bridge, Vyvian Terrace in Clifton, and a display of shell, coral and mineral samples.
Also displayed is a Wedgwood plate created in 1955 by the artist Laurence Whistler as part of his 'Outlines of Grandeur' series. This series featured 6 sites representing different periods of British architecture. The line drawn image of Clifton Suspension Bridge is particularly striking as Brunel's design is celebrated through this piece of British 1950s chinaware.
In addition, to mark the introduction of contactless payments on the bridge we thought it would be apt to have a small exhibition showing changes to the tolls. Did you know that in the past tickets were issued to allow horses, oxen and sheep to cross? And that right up until the year 2000 there was a toll for pedestrians? Do you remember buying brass tokens to cross the Bridge? Pop in to have a look and to find out more.