This week Force One bought their amazing suction truck to the bridge to hoover all of the rubble out of the lower chamber of the Leigh Woods abutment and allow them to be inspected thoroughly. The rubble is thought to be backfill, left by the builders of the abutments before they were completed and sealed in 1845. All the rubble removed from the vaults has been sifted for finds – but we have to thank James for his efforts in digging out the east shaft (that's under a manhole on the side of the abutment which looks toward Sea Walls).
James has spent the last few days digging out rubble which was clogging the shaft and preventing entry to the lower chambers (in a narrow tunnel about 80cm in diameter – and under 7 metres of excavated rubble, he discovered a rock pick or hammer, still with a part of the wooden handle attached.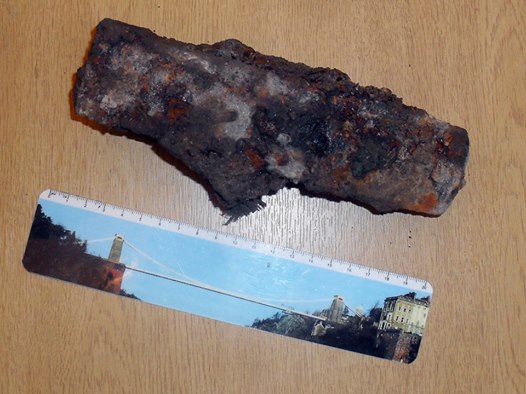 We have to do some rapid conservation on the iron to prevent it from oxidising – but it is in really good condition and we hope that we will be able to have it ready for display in December.